Fred's Outdoors has constructed a state of the art, climate-controlled facility and the most comfortable Indoor shooting range in MD. No matter the weather conditions outside, you will be comfortable year round. We have installed a spacious shooting area with storage and ample counter top space. We have a spacious viewing area for friends and family to observe shooting.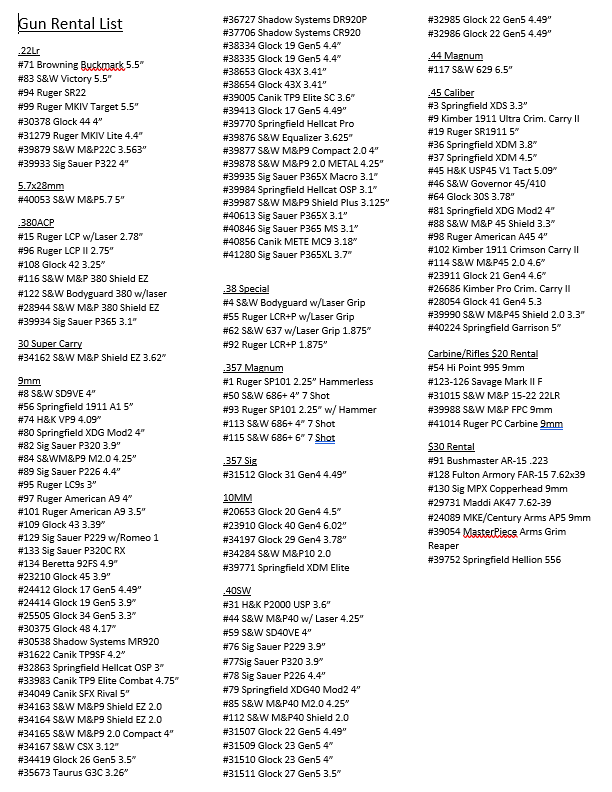 Range Hours
*Call ahead to see if our hours have changed for any reason*
Monday: 12pm-5pm
Tuesday: Closed
Wednesday: 12pm-5pm
Thursday: Closed
Friday: 12pm-5pm
Saturday: 9am-5pm
Sunday: 9am-3pm
Range Information
Pistol Lane fee is $25/hour
Rifle caliber lane $35/hour
(2 people per lane)
You can shoot all pistol/rifle calibers up to .308
Ammo can either be purchased from our facilities or from another establishment. We have 92 guns available for rental. You may switch guns as much as you'd like for no additional charge!
*pistol rental fee is $20/hour*
*rifle rental fee is $30/hour*
Gun Rental List
Membership Information
Monthly and yearly memberships provide unlimited shooting*
Monthly individual membership is $75/month
Yearly individual membership is $400/year
Yearly family membership is $500/year, which includes you, your spouse, and your children that live at the same address.
Range time restricted to 1 hour only if there is a wait
WE ALLOW ALL HANDGUN/RIFLE CALIBERS UP TO .308
(NO SHOTGUNS)
Shooting Range Rules
All firearms must be cased to enter the store and shooting range.
All firearms are to remain in the shooters stall and pointed down range with chambers open when the firearm is not in use. Fred's has provided storage for participants with multiple firearms.
The stall is to be uncluttered.
No more than two participants per stall. Fred's has provided a viewing area in which friends/ relatives can observe shooting.
No one under the age of 21, unless accompanied by a parent/guardian while firing a handgun. No one under the age of 18 while firing a long gun. (Hang your targets appropriately! A child cannot shoot at a target hung at an adult height and vise-versa)
Rounds shot into the ceiling, floor and walls will not be tolerated. (Improper target height. Even though you are hitting the target bull's-eye at close range, as the projectile continues down range it may be too high/ low. PAY ATTENTION)
Dress code: NO flip flops/ open toed shoes, NO tank tops that expose shoulders, NO high heels, NO low cut blouses, T-shirts are permitted (collared shirts must be buttoned up), NO loose or baggy clothing.
Must watch the NSSF Range Etiquette video (see link to video above). Viewing can be completed at home or on premise.
Cross lane firing is not permitted.
Participant's firearms and gear are subject to inspection
Eye and ear protection is to be worn at all times. These products will be made available on site. Use of your personal eye and ear protection is allowed and subject to inspection. **Anyone who compromises this will be asked to leave. Monthly/Annual members will have their fees prorated and refunded.**
Outside ammo is allowed and subject to inspection at our discretion.
Renting out our Range Facilities
4 lanes (Bay A) costs $160/hour OR 8 Lanes (Bay A & B) for $320/hour
(2 people per lane max)
$20/hour per lane for pistol rentals OR $30/hour per lane for rifle rentals
Bay Rental(s) are only available Monday, Wednesday, and Friday before 12pm
*Weekends not available*
*Age requirements still apply when renting our range facilities*
Ammo/targets/eye & ear protection are separate fee(s) outside of the lane and firearm rentals
-$5/hour for eye/ear protection per person
-Targets start at 0.99 and go on up depending on brand/quantity
-Ammo prices vary by brand/quantity
Must book in advance (20% deposit required when booking)