Must Read For ALL MD Gun Owners!!! URGENT
Maryland has some of the most restrictive firearms laws in the United States. The new proposals for 2019 include:
1. Criminalize leaving a firearm in your home with your spouse.
2. Surrendering certain rifles acquired legally since 2013 to authorities, or face confiscation and prosecution.
3. Requiring a 7 day waiting period for all firearms purchases, not just handguns.
4. Limiting lawful citizens who have already undergone a comprehensive background check to purchasing just 1 firearm per month.
5. Banning the rental of handguns at shooting ranges.
6. Banning the lending regulated firearms (including handguns) to anyone, even family members, at shooting ranges.
7.Requiring finger printing, training, a waiting period, and a license to purchase a rifle in Maryland.
8. A First Amendment Attack in the form of a ban on the possession, receipt, or distribution of information (this would include books) on how to "manufacture" a firearm.
After Maryland passed the most comprehensive ban on firearms in the state's history in 2013, and imposed draconian licensing requirements for honest citizens, the number of deaths by shooting (and by shooting only) in Baltimore City DOUBLED, and have not fallen since. The single most significant causal factor was the implementation of the "Firearms Safety Act of 2013", which in reality protected only criminals. It is time to stop the madness and the war on law abiding firearms owners in Maryland.
The undersigned are opposed to the continual erosion and infringement of our Second Amendment rights in Maryland, to include but not be limited to the following bills in the 2019 Session:
HB92, HB95, HB96, HB523, HB612, SB8, SB113, SB346 and SB737.

We stock a wide selection of Handguns in every caliber. We carry Semi-Automatic, Revolvers, Single Shot, Double Action, Break Barel.
We have Handguns from various manufacturers including but not limited to Glock, Smith & Wesson, Taurus, Beretta, Springfield, Walther, Sigarms, Ruger, Rossi, Kimber, High Point, Colt, Bersa, & Bond Arms.
We also buy and sell used Handguns.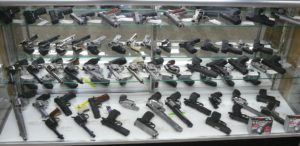 We are a Licensed FFL Dealer. We can transfer guns from other FFL Dealer gun shops for a Transfer Fee. Please Call For Details.
If you are not sure what kind of gun you want, or which handgun is right for your needs, our top-notch gun counter staff can help you make an informed and knowledgeable decision to which gun fits your shooting needs.
Shooting and range accessories are also available. We sell shooting permits to Myrtle grove in La Plata, Maryland.
New to purchasing a handgun? Fred's can help with the entire process from start to finish! We can guide you through the entire process: from providing HQL training, fingerprinting, and online HQL license applications.